In a 'normal' world, viruses and vino wouldn't normally share the same platform – but normal is a relative word in these unprecedented times.
With social distancing and wide-scale closures of bars and restaurants to contend with, producers worldwide have had to overcome a number of difficulties. But with a growing reputation for making some of the best sparkling (and still) wines around, how has the English wine scene fared?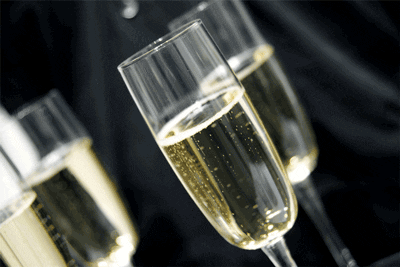 Well there are still some positives. In the 'new normal', with pubs and restaurants off limits, enjoying a glass or two with friends and loved ones via video hang-outs has become the 'in thing' and our taste for a top tipple hasn't wavered – especially when there's homegrown fizz on the menu that's fine enough to rival champagne.
Whether you're filling your glass outdoors or in, here's seven superb sparklers worthy of celebration (especially with initiatives such as 'shop local' high on the agenda and many producers offering free delivery and special deals), plus a look at how the industry is holding up…
1. Chapel Down Brut NV Kent, England, GBP 135 for 6 bottle case (was GBP 162), Chapel Down
"English wine has had its moment in the sun for a while now so there's lots of interest, but relative to where it could be, it's still quite early days," says Mark Harvey, managing director at Chapel Down, England's leading wine producer. "We're seeing lots of interest and demand online, which is brilliant, it's really surged. We have some pretty nice deals across the range – this [Brut NV] just hits the sweet spot, still premium, but feels affordable, and we're supporting offers with some online activity."
Once a week, their winemaker Josh Donaghay-Spire does an Instagram live session @chapeldown. "It's really fun and pretty relaxed. Josh does it from the sofa in his front room and it's been well followed," adds Harvey.
With hints of red apple combined with peachy aromas and flavours, and crisp, fresh palate that leaves you looking forward to the next glass, this one's a perennial favourite.
2. Lyme Bay Brut Reserve Sparkling, Devon, England, GBP 22.99, Lyme Bay Winery
Also passionate about producing delicious, award-winning wines, Decanter magazine scored Lyme Bay 90-94 points (highly recommended) for their Classic Cuvée 2015 – and their fruit driven entry level Brut Reserve represents fantastic value.
"We're thrilled to see people supporting English wine at this time and receiving lots of wonderful feedback from customers trying it for the first time," says James Lambert, managing director at Lyme Bay Winery.
He says their small team has risen to the challenge since lockdown and they're continuing to offer free delivery across the UK on orders more than GBP 20.
As Lambert points out: "As we're becoming more environmentally-conscious, it makes sense to buy local, especially when what's available locally happens to be international award-winning wines."
3. Rathfinny Classic Cuvée 2016, Sussex, GBP 28.95, Lea & Sandeman (available from May 29)
An eagerly anticipated new release, Rathfinny are adding a classic cuvée to their line-up of other sparklers – and the future looks bright.
"We've taken our time as we wanted to get it right and we're very happy with the final product," says Mark Driver, co-owner of Rathfinny Wine Estate. "2016 was such an exceptional year to grow grapes in England. We enjoyed above average summer temperatures and were able to harvest late into October. This delivered fruit with rich acidity but with ripe phenolics [deliciously rounded fruit] that has translated into wines of exceptional quality."
Sarah Driver, co-owner, says they're particularly proud of their Blanc de Noirs, but thinks the Classic Cuvée is going to be the crowd-pleaser: "It has great length and character for what many would consider to be an exceptionally competitively-priced wine. To be releasing our full range of sparkling wines on our 10-year anniversary is thrilling, and shows how far we've come on our journey."
4. Digby Leander Pink NV, Sussex, GBP 34.99, Virgin Wines
Another fine fizz with excellent credentials, Digby's Leander is the official sparkling wine of Leander Rowing Club in Henley-on-Thames; the most decorated rowing club in the world with more Olympic golds than any other. And while spectator sports have been postponed this year, we can still up our game with this beauty of a rosé – a glorious glass of summer fruit notes, vibrant red berries and delightful creamy fruitiness.
5. Roebuck Estates Classic Cuvée 2014, Sussex, England, GBP 35, Roebuck Estates
Roebuck Estates have been as proactive as possible from early on (in the crisis) and James Mead, general manager, says initiatives such as 'drink local' and 'shop local' have gained traction; something they wholeheartedly support and have played a part in where they can.
"The weather has certainly been one of the few bright points of recent weeks and we've seen a pleasing uplift in direct sales, and continue to offer free delivery across the UK on any wines bought via our website," says Mead.
And you can't go wrong with this exceptionally good and easy drinking sparkler, with its citrusy, bready aromas, generous, rounded palate of baked apple and creamy orchard fruits and lovely long finish.
6. Wiston Estate Rosé 2014, West Sussex, England, GBP 38.50, Wiston Estate
Wiston Estate are offering 15% off for all NHS workers (email [email protected]) for orders more than GBP 30, along with free delivery on all orders nationwide – "to make sure Wiston can still get to you, even if you can't come to us."
Torn between which bottle to add to your basket? We've plucked the rosé for its vivacious red fruits with hints of morello cherries and wild roses, fragrant notes of redcurrant and zesty, summer freshness. And don't forget to checkout their Chef Series Recipes for inspiration on food and wine pairings, helping to support local farmers.
7. Gusbourne Blanc de Noirs 2016, Kent, England, GBP 59, Gusbourne
Elsewhere, Gusbourne have launched their Time Well Spent initiative, with inspiring content such as masterclasses, tasting tips, pairing takeaway foods with wine and an Open Kitchen culinary series with 'try this at home' recipes – as well as releasing limited-edition wines to buy online, usually only available from their cellar door in Kent.
"It's one small way we can stick together until we can get together again," says Jonathan White, head of marketing at Gusbourne.
For a glass of liquid gold, their latest release is drinking beautifully; rounded and rich, intense and layered, with hints of citrus, enticing florals, candied fruits, yeasty complexity and long, elegant finish. Bubbly at its best from an excellent vintage.
Another thing…
Waitrose have joined the initiative to support English wine producers and highlight their wines during these difficult times with fizz promotions and savings of 25% from now until June 9. For more info, visit Waitrose.com.