Even if you haven't newly dedicated your life to nurturing a needy, bubbling sourdough starter through lockdown (Instagramming your beloved incessantly as you go), the likelihood is, you'll have been seeing a lot more of your kitchen than you did in life BC.
It's unavoidable when restaurants are shuttered; stopping off at the chippy is out of the question; your friends who do love cooking can't invite you round for pasta; and dropping the kids off at their grandparents' for a quick tea of beans on toast is banned.
While being forced to cook so much more is proving a total joy for some, it's also an actual nightmare – on top of an already nightmarish pandemic situation – for others. And then, some days (because this new reality really knows how to screw with your emotions hour-to-hour) you enjoy whipping up breakfast and lunch, only to utterly despair come dinner.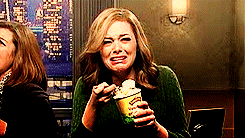 These are just some of the many highs and lows of lockdown cooking you're won't be alone in feeling…
When cooking in lockdown is an absolute chore…
It doesn't seem to be the actual (endless) cooking grinding most people down, but the constant washing up. Just the number of dirty mugs on the counter makes me want to set up a school fete style crockery smash in the kitchen.
There's only two of us, and yet the number of plates we get through makes our cupboards appear to be harbouring secret stores, like Mary Poppins' carpet bag. It's overwhelming.
Then there's realising you're out of pasta or milk, knowing you can't do a food shop for at least a few more days, as well as simply missing being able to just pop to the shop to satisfy a craving for something in particular – unless you want to queue and deal with the stress of a supermarket. They're just so fraught, I find myself holding my breath and having to psyche myself up before going in. The days of nipping in for just a tub of ice cream (Ben & Jerry's Fish Food, of course) and a frozen pizza, are gone – for now at least.
Braving one doesn't guarantee getting your hands on what you're craving either, leading to many a Google search starting: "What can I use instead of…" or trying to discover ways to transform the last of a bag of plain flour into oh so elusive self-raising. Apparently adding two teaspoons of baking powder per 150g of plain flour works, but it's a pain fiddling about, looking things up in the middle of making a carrot cake.
Ultimately, a bad meal in lockdown – when things can feel so difficult already and food is one of the few accessible pleasures left – will undoubtedly tip me over the edge. There have been tears, and yes, I know there are bigger problems to deal with. But it's OK, give it four hours and it's about time to cook again.
When it is a total joy…
Between the trauma of the news, and the impact of lockdown restrictions, planning dinner over breakfast, baking (yet another) banana bread, snacking on a chocolate biscuit, and watching the alchemy of vegetables roasting in the oven, can all offer tiny moments of escape. There's something very soothing about stirring risotto, chopping cucumber into sticks, or stealing lasagne leftovers from the fridge.
Making a meal, if nothing else, gives you something to do, punctuating days that – if you're not able to work or go outside, and aren't homeschooling – can feel horribly long and listless. Cooking has become an event, and activity to look forward to.
It's also a chance to experiment, try new and ever more elaborate recipes. Sure, spend eight hours smoking brisket, or serve celeriac four-ways like they do on MasterChef. Turn your kettle into a sous-vide machine and learn how to make puff pastry from scratch – why not?!
There's a slight challenge to lockdown cooking too, from trying not to waste a thing, to planning meals with military precision, approaching dinner-time like an episode of Ready, Steady, Cook.
Finding a balance is crucial though, especially if you have children to entertain and feed. You don't want to go to a huge amount of effort, creating three extravagant courses, for your kids to sit down, bicker and not appreciate the food. Keeping meals simple, especially at lunch, reduces the stakes, and helps maintain the peace.
When it's fun and you have the time, cooking can focus your brain, trigger a sense of achievement and you'll notice, in real-time, how much better you're getting at whipping up meals that taste good, and make your household forget – for a few minutes at least – what's going on outside. Everything seems better with a plate of buttery scrambled eggs and toast in front of you. Fact.